You are not logged in. Log In
Flatpicking Guitar Magazine - Flatpicking Christmas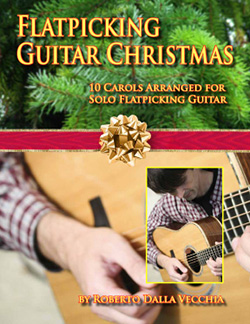 During the holiday season, it is not uncommon for guitar players to be asked by family and friends if they would play a few seasonal tunes. Unfortunately, most guitar players do not spend a lot of time practicing and learning these tunes. For a flatpicker, picking up the guitar and playing a Christmas melody without the accompaniment of other musicians is something that is typically outside of their comfort zone. But that doesn't have to be the case!
Italian flatpicking master Roberto Dalla Vecchia has now presented arrangements of 10 holiday favorites arranged for solo flatpicking guitar. With this new book, Flatpicking Guitar Christmas, you will be able to learn how to play and full and rich solo guitar arrangement of ten of the all-time most popular Christmas tunes. Additionally, a study of Roberto's solo flatpicking technique will allow you to then learn how to develop your own approach to solo flatpicking
Solo flatpicking is a skill that relatively few flatpickers have mastered because most of their time is spent playing with other musicians providing accompaniment behind their lead lines. It is no easy task to present a full and rich solo guitar arrangement that provides melodic, rhythmic, and harmonic content when using a plectrum. Roberto Dalla Vecchia is one of the world's best at solo flatpicking and through study of these tunes you will learn how it is done.
Song List:
O Christmas Tree
Silent Night
Deck the Halls
Angels We Have Heard on High
Jingle Bells
What Child Is This?
Auld Lang Syne
Away in a Manger
We Three Kings
Joy to the World