You are not logged in. Log In
Flatpicking Guitar Magazine - Best of the 1st Ten Years Series - Technique, Theory & Guitar Exercises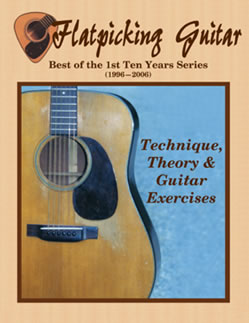 Welcome to the downloadable PDF version of Flatpicking Guitar Magazine the "Best of the First Ten Years: Technique, Theory, & Guitar Exercises." This PDF book contains 240 articles presented on 581 pages that pertain to many topics relating to guitar technique, theory, and exercises and were chosen by the Editor from the issues of Flatpicking Guitar that were published from November/December 1996 (Volume 1, Number 1) through September/October 2006 (Volume 10, Number 6), plus a few bonus articles from years 11 and 12. All pages from each article are presented in Adobe Acrobat Portable Document File (.PDF) format and can be printed out on your printer. A comprehensive article index links to each article with the click of your mouse.

Articles pertaining to the following topics are included in this PDF book:
Playing Up-The-Neck (20 articles)
Crosspicking (22 articles)
Double Stops (9 articles)
Kick-offs, Turnarounds, Fills, Connectors, and Endings (20 articles)
Tuning, Timing, Tone, and Taste (14 articles)
Improvising (22 articles)
Scales (22 articles)
Chords and Arpeggios (18 articles)
Harmony & Guitar Duets (9 articles)
Right Hand Technique & Development (8 articles)
The Double-Down-Up Technique (3 articles)
The Rest Stroke (4 articles)
Alternate Tuning (6 articles)
Floating (2 articles)
Dynamics (3 articles)
Technique Exercises (15 articles)
Learning from Other Instruments (4 articles)
Reading Music (4 articles)
Ear Training (9 articles)
Theoretical Concepts (10 articles) including: Modes, Circle of Fifths, Circle of 4ths, Nashville Number System, and more
Misc. Technique (16 articles) including: drones, string bending, vibrato, tremolo, harmonics, chickin' pickin', sustain, muting, call & response, modulation, and more.